WiseRetail
Wise Retail retail- and restaurant solutions are suitable for all sizes and types of retail businesses, restaurants and other facilities. Wise Retail is a user-friendly commercial platform with touchscreen and a powerful backend performance. Install the system on various handheld devices, mobile or tablet.

Easy to find sales receipts, returns and discounts. The restaurant solution is designed especially for the industry with specialized operational view, actions and layout for ease of daily tasks.

Easily understandable user interface and the speed of the system is key for this type of operation.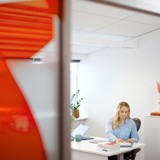 Wise Retail
Connect to other systems
Today's customers expect to be able to shop in stores or online. Wise Retail is designed to connect easily to other systems, allowing you to offer the same range of products at the same prices. 
Wise offers integration with online stores such as WooCommerce, Shopify and Dynamicweb, which is a large solution with the possibility of not only retail functionality but also sales to companies.