WiseFish
WiseFish is a software solution specifically designed for fisheries, used by many companies in Iceland and abroad. The core function of this solution is managing the tracking and costs of seafood products from fishing to consumers. The solution helps users make the best decision at each time to maximize profitability and make plans.
WiseFish is suitable for fishing companies, fish processing, exporters, producers and distributors in the fishing industry, both big and small. As of today, fishing operators in more than twenty countries are using the WiseFish system to manage all parts of their daily operations.
We offer solutions in Microsoft Dynamics Business Central ERP besides being an independent reseller of Microsoft Dynamics 365 Business Central. Wise has been rewarded as a Microsoft Gold Partner and a Microsoft Country Partner for many years in a row.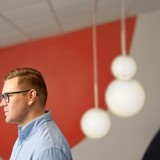 WiseFish
Monthly Subscription
For the design and development of WiseFish, we have made sure to minimize any intrusion of the standard function of Microsoft Dynamics 365 Business Central. This makes regular updates easier when new versions of Dynamics Business Central are released.
WiseFish is available by a monthly subscription. The monthly fee includes the software and charges for updates and service. Storage of data in a SQL database is included in the subscription along with regular backup and safe security protection. Wise makes sure to inform customers about updates and new features as needed.